Solution
A custom designed exam room and surveillance system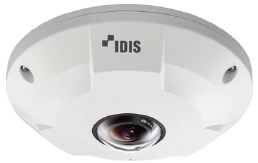 A mix of IDIS IP cameras, including the IDIS 5MP Super Fisheye, were selected by Lennart ter Beek, working in consultation with Arno Tollens, Hoppenbrouwers Techniek's project coordinator. For many years Hoppenbrouwers Techniek has been IBKI's trusted partner for both site electrical services and mechanical engineering. As part of the equipment selection process IBKI was given a comprehensive, live demonstration of the IDIS Total Solution.

"During the demonstration at the IDIS office, the userfriendliness of the system was striking," says Dennis Dubbers. "For IBKI this was very important, because the system will be used by more than 100 different people in a typical year."

Following the demonstration, it was agreed that the examination rooms would be custom-fitted with new furniture and multiple screens, one on each wall, allowing easier explanations to be given by exam supervisors.

Each exam desk is now fitted with a camera and, in addition, the high performance 5MP IDIS Super Fisheye provides a total room overview plus the ability to zoom for crystal-sharp viewing during live monitoring.