Results and Benefits
Partnership with Ametrad Technology Services is a model for further projects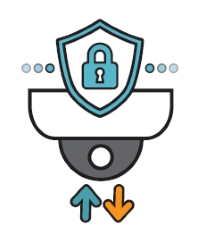 The successful partnership between Ametrad Technology Services and IDIS resulted in efficient project delivery, on time as promised, and has put the two companies a lead position for other mission-critical projects across the Levant region.

In operation the bank's new system has lower bandwidth requirements and faster recording retrieval time, making the security operation both more effective and more economical. The bank's central monitoring team can now work more efficiently, with their new IDIS VMS providing event forwarding, acknowledgements, notifications, live pop-ups and other valuable functions.

IDIS's true plug-and-play technology is also less vulnerable to password breaches and cyber security loopholes, as installation engineers don't need to manage IP addresses or manually enter passwords for each device. And IDIS's Linux based servers and proprietary protocols ensure the highest level of resistance to hacking.

IDIS's For Every Network (FEN) capability, which uses peer-to-peer technology, also allowed Ametrad engineers to quickly name each branch and connect the system to IDIS Solution Suite. As the system expands FEN will act as force multiplier by reducing installation costs, speeding up implementation time and protecting against human error by eliminating the complexity and cyber challenges associated with multi-site surveillance.
"Working in close partnership with IDIS we were able to deliver a smooth, staged technology migration at these critical security sites, with no delays, problems or interruptions to recording,"

Ahmad Shanawani
Managing Director of Ametrad Technology Services
Meanwhile, the Central Bank's engineering department confirms that the IDIS solution now provides the uncompromising standard of protection they need, with lower ongoing costs, easier operation and the assurance that they will continue with the highest standard of video surveillance going forward.