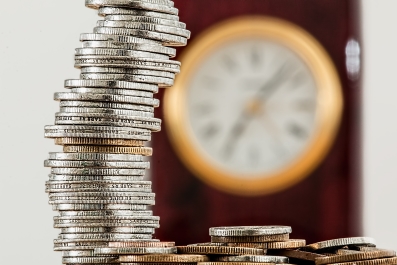 Jamie Barnfield, Sales Director, IDIS Europe tells the International Security Journal that in today's competitive and crowded market its vital for end-users and integrators to understand the true cost of a video system.

Let's start with what Total Cost of Ownership does not mean.

It's not (or it definitely shouldn't be) an excuse for why something is priced too high. And it shouldn't be a clever sales pitch used to persuade people to spend more than they need to.

What Total Cost of Ownership (TCO) is, is a calculation of how much a customer really pays over the lifecycle of a surveillance solution. And understanding TCO is particularly important in the video surveillance market, where manufacturers and their integration partners are competing aggressively to win customers.

Security managers can spend months or years struggling with poor quality systems; out-dated technology that's difficult to operate and expensive to maintain; legacy systems that leave premises, assets and staff less safe; and as a result, they don't reap the benefits of using the latest IP technology.

So, it's important those customers ask for support from their integration partners and manufacturers, to set out – accurately - benefits and costs. A powerful and collaborative business case will be far stronger than a bill of materials and labour costs. And it can trigger the faster release of budgets.

So, here are some of the points to consider – and, yes there's a lot to factor in, and of course not all of them will be relevant to every project. Even identifying and calculating some of these elements will give you a better understanding of true TCO.
1) Mixing and matching multiple vendors can cost...

Mixing and matching surveillance equipment and software from different suppliers can quickly bring problems of complexity. Almost as the kit is out of the box an engineer is faced with complexity. By contrast, with a quality end-to-end solution (i.e. one that encompasses cameras, storage, software, monitors, analytics, network accessories) the technology is seamless, with rich connectivity making installations faster and smoother with less chance of costly project overruns and that means lower labour costs.

Mix-and-match sourcing also brings costs further down the line. For example, user training – and refresher training - is taking more time out from the day jobs and there's far more to take in and absorb with multi-vendor systems.

And organisations always want to upgrade or extend systems sooner or later, quite often sooner. With a multi-vendor set up, when the need to replace one component or upgrade to a more powerful NVR or add additional cameras for example – that's likely to cause a domino-effect of having to replace other parts or even the entire system to get around compatibility issues.

Take-away: With one manufacturer you have only one point of contact for technical support, so you don't end up talking to multiple vendors if you need to resolve a problem which are all likely to dodge responsibility. Expect to extend, modify, or upgrade your system at some point soon – and plan for it.

2) Beware the hidden costs of licensing

Everyone involved in the security industry knows there's been a race to the bottom on the price of surveillance equipment. Even the high-end, high-performance players have had to drop camera and other hardware prices to compete.

Yet to survive all companies need to turn a profit. And much of that comes through licensing and oft-hidden fees. So, your upfront equipment cost may look attractive, but what about ongoing charges? Over the lifecycle of your system that can be quite a sum.

The most obvious are licensing fees for video software management (VMS). And they are simple to factor in if there's one annual fee for unlimited users. But it's not so easy when you are billed per user. What happens if your business grows and more operators and staff want the ability to retrieve and view footage? Equally, what if you downsize? You could sign up to a contract and end up paying for licenses you don't use.

The same is true of functionality and features within VMS, particularly at the enterprise-level. Your business may only use it for centralised monitoring and event management but very often you're paying for a whole raft of applications that you never use, including analytics, redundant failover, video wall functionality, etc.

Then there's the often-hidden charges for software you'll absolutely get if your business wants to provide evidential footage. You'll absolutely need the ability to export clips using masking and redaction. Or else you'll need to outsource this service to a third party and if they're charging by the minute you'll be faced with huge costs. There's also an array of analytics appliances in the market that deliver additional business intelligence, particularly in retail. But again the upfront cost may be attractive but the on-going license maybe not so. Or analytics and AI software that come in multiple channel options when you're only looking for analytics on a handful cameras. Again you'll wind up paying for something you don't need. And be sure to evaluate edge-analytics as this could be a far more cost-effective option for your needs.

Take away: Evaluate manufacturers that offer zero upfront VMS without any licensing fees. Look for software that is modular and scalable and only pay for what you need, with the ability to scale up. And look out for those other hidden fees!

3) Cutting corners with cybersecurity can cost money – a lot of money and trust

Cybersecurity is a powerful example of upfront 'cheap costs more'. The losses and the damage that can result from a cyber-attack can be huge – many times greater than the cost difference between a vulnerable video system and a cybersecure one.

These cutting-corner-costs can include: direct costs for remedial action; immediate loss of business; fines from regulators; and the knock-on effects of reputational damage that can drain revenue long term.

Increasingly customers need reassurance that any video tech they buy has the cybersecurity to ensure secure access, transmission, storage and gives them the video integrity they need to use footage as evidence.

Yet in recent times video buyers have unwittingly added a camera to their network that has vulnerabilities for hackers to exploit. A quick internet search will bring up lists of cameras with known vulnerabilities– so it's worth checking with your manufacturer and integrator that these cameras aren't included in your system design.

And it's for good reason that the UK's Surveillance Camera Commissioner's Office is introducing new standards to ensure that video surveillance equipment is 'Secure by Design and Secure by Default'.

One option to reduce cyber risk is looking at plug-and-play solutions. These will usually mutually authenticate devices, which eliminates the need for engineers and operators to be manage IP addresses and associated passwords and make the age-old error of a keeping record of these on paper on in a vulnerable spreadsheet. Plug-and-play will also remove the need for your integrator to have in-depth knowledge of routing or IP networking, which again reduces risk.

Take-away: Ask the right questions and make sure any video tech you buy has robust cybersecurity that protects access, transmission and storage, and delivers video integrity. And make sure your integrator is also up to speed on the latest cyber tech!

4) Reliability and high-performance means efficiency

There are all sorts of reasons why quality equipment will give you a longer service life, not least of which is the fact that high-end manufacturers are committed to providing support and protecting their reputations. Look for the longest product warranties – the industry's best will protect users from five to seven years.
And another example: using equipment with low PoE consumption will deliver significant energy savings. So, it's worth checking the small print of specification documents as over the lifecycle of a system this can be a significant saving that becomes a force multiplier the more devices your system encompasses.
Particularly in Europe, reducing waste, cutting down on energy consumption and pollution, is not just desirable, it's vital. So, make sure your manufacturer is signed up to and committed to EU standards on waste recycling and has eliminated the use of hazardous substances.
Try before you buy. It may seem obvious but get your staff and operators to try out software interfaces and controls. Complicated software; difficulties in searching/retrieving footage; trouble exporting video clips with appropriate privacy masking; and jerky controls that result in missing critical events and details. Inefficient working always cost money.
At first glance compare the throughput of NVRs as this will likely determine overall system performance. Check if manufacturers have implemented the latest compression technologies to ensure that an upgrade to HD or UHD wont' be a huge burden in terms of bandwidth and storage.
And make sure cameras do what they say on the tin. Is a 12MP fisheye camera really giving you that high level of resolution once it's dewarped? And since it's covering such a wide space will it give you evidential quality footage no matter the lighting the conditions?
On the subject of evidence: If an incident occurs and there's missing footage, that can cause all sorts of problems including non-compliance or difficulties investigating a crime. Or you could miss a slip, trip or fall, or another type of accident. In those situations, liability often needs to be investigated. And without footage, liability becomes pretty difficult to ascertain.
So, importantly, check that your surveillance solution gives you multi-layered failover protection against a range of fault conditions such as network failure/instability, power or storage failure. Having integrators add failover means additional labour costs and redundant equipment is also an additional expense, so look for surveillance solutions that come with essential failover already built in.
And what about using the system on-the-go? Busy managers will find they can work much more efficiently if they can access and operate their system using their smartphone or tablet.
Take away
: To really deliver on its potential – cutting losses, deterring crime, investigating incidents - a video system needs to be easy to use and reliable so that its functions can be taken full advantage of. The harder it is to do that, the less return there will be on the investment. And look out for those industry leading warranties!