The compact design of the DC-C4212RX allows for faster and more convenient installation and is the perfect choice for retail and discrete security applications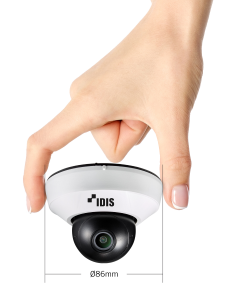 The new DC-C4212RX 2MP micro dome camera is the latest addition to the DirectIP® line up from IDIS, which is South Korea's largest in-country manufacturer of surveillance technology.

The compact design of the DC-C4212RX makes it the best choice for understated, less noticeable installation. The neat aesthetics are ideal for applications where there is a need for unobtrusive surveillance but where comprehensive, high-performance video capture is paramount.

Measuring only Ø86 mm x 58 mm and weighing just 105 grams, the DC-C4212RX delivers advanced benefits within its lower profile and is the right choice for high-end locations such as jewellery shops and boutiques, as well as up-market restaurants and luxury hotels.

The DC-C4212RX offers all the key benefits that installers expect from IDIS DirectIP dome cameras, including the company's signature plug-and-play installation and configuration. The elimination of a pigtail cable allows faster and easier deployment.

The 3-axis mechanical lens enables rotation and easy angle adjustment, making it an important design feature for precise image capture, particularly when the camera needs to be discretely wall-mounted. The camera can also operate in a wide range of lighting conditions, delivering high performance live monitoring and playback.

Other key features include true wide dynamic range (WDR); IR LED illumination up to 15m with day and night ICR; dual codec H.264/H.265 performance; and easy, plug-and-play integration with IDIS VA in the Box. This cost-effective video analytics appliance delivers value-add business intelligence gained from heat mapping, people counting, queue management and comprehensive reporting.

"Our new micro dome is a great camera for installers to work with and it delivers outstanding surveillance capability for customers," says James Min, Managing Director of IDIS Europe. "It further strengthens our end-to-end offering for retail applications, including high street fashion, boutiques, dining, pubs and coffee shops - markets in which we have gained significant market share globally."

For more information on the IDIS Total Solution, which provides an end-to-end, single-sourced solution and unrivalled plug-and-play performance and compatibility - email info@idisglobal.com or visit www.idisglobal.com.