How can retailers adapt their store operations – and how can they use innovative and low-cost technical fixes help them move forward?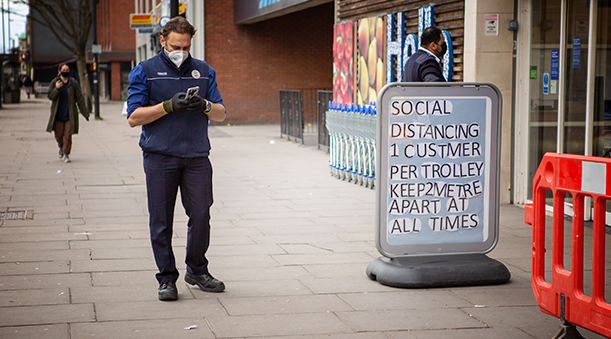 by Jamie Barnfield, Sales Director, IDIS Europe
As we enter the next phase of the pandemic, we are seeing some interesting answers.
Nervously - and at different speeds – countries around Europe are emerging from their lockdowns. Or they are watching to see what happens as others do so, hoping to learn the best ways to prevent further surges in infection.
At the moment, many of our previously bustling towns and cities still feel strange and subdued, and people are torn between wanting to get back to their old lives, and anxiety about the risks of doing so – and many will remain nervous, at least until a vaccine is developed.
So as the lockdowns ease, businesses will have to find a way through.
For retailers, planning how to adapt their stores and operations - how to both protect customers from infection and reassure them that it's safe to come back and shop - it's important to understand that the wait for a vaccine may be a long one, not just a few weeks or months.
Nearly 80 companies and academic institutions are now working on the challenge, and five of these are already testing their vaccines on people. But even if things go well, it's likely to take at least 18 months.
And more importantly, it's likely that the virus will become endemic or re-emerge with seasonal outbreaks every year - like flu - as specialists from the London School of Hygiene and Tropical Medicine recently pointed out.
So, the risk of infection is something we're going to be living with long term, and people will be more cautious.
In the future, it won't just be those who work in the medical profession who pay close attention to hand washing, personal space, and hygiene risks. It seems likely that people's attitudes to these things will have changed permanently.
So how can retailers adapt their store operations to this new reality – and do it in a financially sustainable way?
Last month the trade association the British Retail Consortium (BRC) and the shop workers' union USDAW jointly issued guidance for stores, looking at how they could prepare for re-opening. Their suggested measures included limiting the number of entry and exit points, keeping fitting rooms closed, restricting customer seating, using one-way systems, erecting protective barriers at checkouts, and limiting the number of customers coming into stores.
Lessons have been learned from grocery stores and supermarkets that stayed open during the lockdown. At these outlets it was found that clear signposting outside and inside stores, alongside increased security staff presence at store entrances, really worked. These measures, tested, improved and rolled-out as the emergency unfolded, allowed them to adapt and ensure safe occupancy levels.
But looking ahead, the costs of paying staff to stand at entrances to control access, person by person, are just not sustainable for most, particularly those stores outside of major supermarkets that have taken a serious hit on revenue. And in some circumstances, the BRC recommends that staff monitoring social distancing and the numbers of customers entering may need to be SIA (Security Industry Authority) licensed. This means additional training or hiring in outsourced guards, which adds to costs. And it must be remembered that staff who are looking forward to returning to their familiar retail jobs may not be so keen to be posted at the door.
That's why many bricks and mortar retailers are currently evaluating technology as an alternative – and looking for solutions that won't impact on the customer experience.
There are some incredibly sophisticated cloud-based and server-based solutions out there, but these are not affordable for most retailers. Many stores haven't seen a customer in weeks, and their online businesses haven't had an easy time either, with distributions centres continually challenged to adapt to new conditions. With social distancing likely to remain in place for months, few of our favourite high street retailers will be in a position to offer next day or fast turnaround deliveries as they did pre-pandemic.
Yet there are plenty of low-cost stand-alone solutions that work independently of expensive IT or cloud infrastructure have been developed, and these can be easily mounted at store entrances to detect and count people entering and leaving. These solutions offer the advantages of rapid set up, and they work straight away to provide clear visual alerts when occupancy limits are reached.
In addition, some of these systems don't require cameras, so they protect the anonymity and privacy of customers, whilst still providing accurate real time data about how many people are in the premises. They can also be set up to distinguish staff from customers, so they give an accurate picture of what's going on.
Replacing the temporary printed or hand-written signs that were widespread at the start of the pandemic, such solutions can be used with display screens at entrances to invite customers to come in, to ask them to wait until it's safe to enter – or to display other information that will help to keep customers informed and feeling protected. AV kiosks with added hand sanitizers are another innovation worth looking at – making it easy for customers to protect themselves and others, read safety and promotional information while they wait for their turn to enter the store.
It's exactly this sort of technology that retailers will be looking to, to give them increased control over store occupancy for the foreseeable future, not just to keep customers safe, but to make them feel comfortable and happy to return to their much-loved high-street stores.