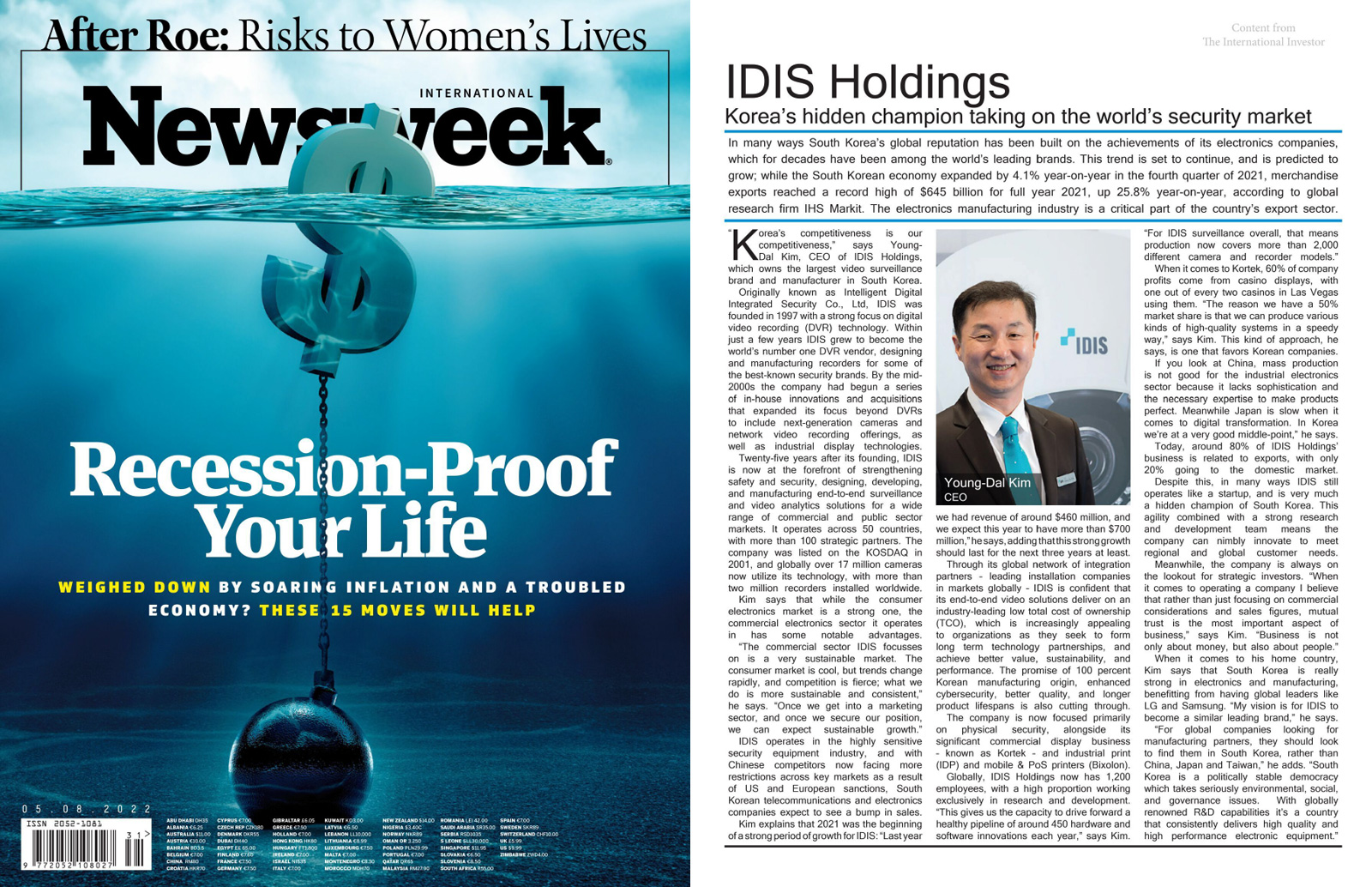 Korea's hidden champion taking on the world's security market
In many ways South Korea's global reputation has been built on the achievements of its electronics companies, which for decades have been among the world's leading brands. This trend is set to continue, and is predicted to grow; while the South Korean economy expanded by 4.1% year-on-year in the fourth quarter of 2021, merchandise exports reached a record high of $645 billion for full year 2021, up 25.8% year-on-year, according to global research firm IHS Markit. The electronics manufacturing industry is a critical part of the country's export sector.
"Korea's competitiveness is our competitiveness," says YoungDal Kim, CEO of IDIS Holdings, which owns the largest video surveillance brand and manufacturer in South Korea.
Originally known as Intelligent Digital Integrated Security Co., Ltd, IDIS was founded in 1997 with a strong focus on digital video recording (DVR) technology. Within just a few years IDIS grew to become the world's number one DVR vendor, designing and manufacturing recorders for some of the best-known security brands. By the mid2000s the company had begun a series of inhouse innovations and acquisitions that expanded its focus beyond DVRs to include next-generation cameras and network video recording offerings, as well as industrial display technologies. Twenty-five years after its founding, IDIS is now at the forefront of strengthening safety and security, designing, developing, and manufacturing end-to-end surveillance and video analytics solutions for a wide range of commercial and public sector markets. It operates across 50 countries, with more than 100 strategic partners. The company was listed on the KOSDAQ in 2001, and globally over 17 million cameras now utilize its technology, with more than two million recorders installed worldwide.
Kim says that while the consumer electronics market is a strong one, the commercial electronics sector it operates in has some notable advantages.
"The commercial sector IDIS focusses on is a very sustainable market. The consumer market is cool, but trends change rapidly, and competition is fierce; what we do is more sustainable and consistent," he says. "Once we get into a marketing sector, and once we secure our position, we can expect sustainable growth."
IDIS operates in the highly sensitive security equipment industry, and with Chinese competitors now facing more restrictions across key markets as a result of US and European sanctions, South Korean telecommunications and electronics companies expect to see a bump in sales.
Kim explains that 2021 was the beginning of a strong period of growth for IDIS: "Last year we had revenue of around $460 million, and we expect this year to have more than $700 million," he says, adding that this strong growth should last for the next three years at least.
Through its global network of integration partners – leading installation companies in markets globally – IDIS is confident that its end-to-end video solutions deliver on an industry-leading low total cost of ownership (TCO), which is increasingly appealing to organizations as they seek to form long term technology partnerships, and achieve better value, sustainability, and performance. The promise of 100 percent Korean manufacturing origin, enhanced cybersecurity, better quality, and longer product lifespans is also cutting through.
The company is now focused primarily on physical security, alongside its significant commercial display business – known as Kortek – and industrial print (IDP) and mobile & PoS printers (Bixolon).
Globally, IDIS Holdings now has 1,200 employees, with a high proportion working exclusively in research and development. "This gives us the capacity to drive forward a healthy pipeline of around 450 hardware and software innovations each year," says Kim. "For IDIS surveillance overall, that means production now covers more than 2,000 dif­ferent camera and recorder models."
When it comes to Kortek, 60% of company profits come from casino displays, with one out of every two casinos in Las Vegas using them. "The reason we have a 50% market share is that we can produce various kinds of high-quality systems in a speedy way," says Kim. This kind of approach, he says, is one that favors Korean companies. If you look at China, mass production is not good for the industrial electronics sector because it lacks sophistication and the necessary expertise to make products perfect. Meanwhile Japan is slow when it comes to digital transformation. In Korea we're at a very good middle-point," he says.
Today, around 80% of IDIS Holdings' business is related to exports, with only 20% going to the domestic market.
Despite this, in many ways IDIS still operates like a startup, and is very much a hidden champion of South Korea. This agility combined with a strong research and development team means the company can nimbly innovate to meet regional and global customer needs. Meanwhile, the company is always on the lookout for strategic investors. "When it comes to operating a company I believe that rather than just focusing on commercial considerations and sales figures, mutual trust is the most important aspect of business," says Kim. "Business is not only about money, but also about people."
When it comes to his home country, Kim says that South Korea is really strong in electronics and manufacturing, benefitting from having global leaders like LG and Samsung. "My vision is for IDIS to become a similar leading brand," he says.
"For global companies looking for manufacturing partners, they should look to find them in South Korea, rather than China, Japan and Taiwan," he adds. "South Korea is a politically stable democracy which takes seriously environmental, social, and governance issues. With globally renowned R&D capabilities it's a country that consistently delivers high quality and high performance electronic equipment."