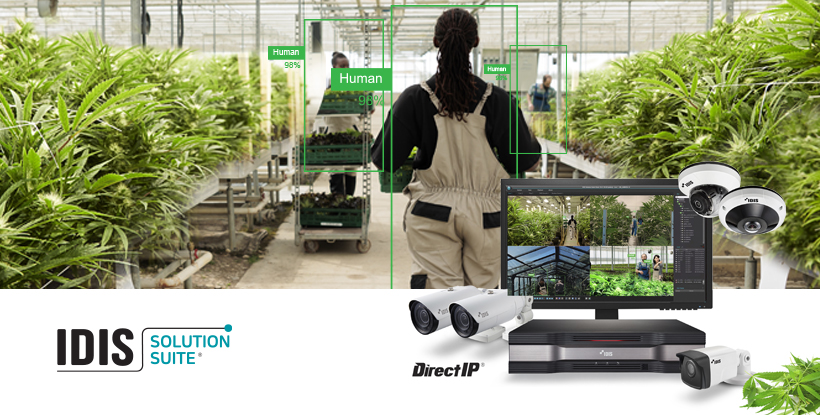 San Kim, Operations Director, VMI
 The cannabis sector across North America is going through a period of significant transformation. Powered by a huge spike in sales at the beginning of the COVID-19 pandemic and a swell of public support for the legalization of the drug, cannabis operators are currently enjoying impressive levels of growth.
The industry is set to be worth $32bn by the end of 2022, with a recent study projecting that its value will rise to $57bn by 2030, growing at a CAGR of 11%. Cannabis is currently legalized for recreational use in 19 states, with 38 states having legalized it for medicinal use. It is reported that 91% of the American adult population is now in favor of full legalization of the drug. And as scientific research progresses, more proven medicinal purposes are being discovered at pace with early indications suggesting benefits for the prevention of cancers and for use as alternatives for infections and diseases that are antibiotic-resistant.
With cannabis usage increasing all the time, operators are turning to advanced video surveillance solutions to not only improve safety and security, but also enhance operational efficiency.
Tailored solutions to meet specific requirements
 Cannabis is, for understandable reasons, a highly regulated industry, with each municipality having its own security standards that cultivation, extraction and retail facilities must adhere to. Some requirements are common to all of them, including a minimum of 90-day video storage.
At VMI, we have built our success on the ability to deliver customized video solutions which meet the specific requirements of each of our customers' sites. By utilizing a total, end-to-end solution such as IDIS, we can provide video monitoring services to cannabis operators with significant customization across each of heir sites, which connecting and working seamlessly.
For instance, a Multi-State Operator (MSO) may have a logistics facility in Nevada that requires 100 cameras and a retail dispensary in California that requires eight cameras, but the user will want complete domain awareness across all their sites using VMS with federated architectures that allow command and control from a single-pane-of-glass. This means authorized users at each location can also handle events in real-time on the ground via client software with essential functionality, including live view, playback, and export of footage forensic evidence in conjunction with our support when needed. Being able to provide all this through a one-stop-shop vendor, we're delivering seamless connectivity of cameras, recorders, and other devices, as well as simple connection to our monitoring center, while giving users a unified user experience and service.
It is imperative that customers are notified of any unusual events in real-time, or as close to real-time as possible. We have the capability to customize notifications down to an individual camera level if required, so that we can ensure that the correct person receives the right notifications. Other actions can be customized to this granular level too, such as options to engage PA systems that challenge intruders, or smoke systems that inhibit criminal activity.
There is a misconception that cannabis operators have a "money is no object" attitude, but this is certainly not the case, taxes and operational costs eat into a large chunk of operators' profits. Consequently, license-free surveillance solutions or those with one-off charges are proving particularly attractive to businesses working within the sector. The knowledge that a system isn't suddenly going to switch off because of an unpaid license fee gives customers peace of mind that they will be able to adhere to strict government regulations around continuous video monitoring. In addition, thanks to the latest deep learning analytics and comprehensive reporting tools, this makes our operators far more efficient, so we can offer affordable, customized monitoring services without compromising on service levels.
The importance of being proactive, not reactive
 From our point of view, event detection not only refers to unusual activity taking place at the customer's location, but it also includes anything out of the ordinary happening on the system itself. For VMI to deliver the proactive service that our customers expect, it is vital that we are made aware of any issues with the system as soon as possible, we cannot wait for the customer to contact us.
For example, a critical event impacting the system's health could be that the NVR is infected with corrupt data. Real-time system health management and monitoring is essential to prevent an issue such as system downtime. The continuity of video monitoring is mission critical, with many municipalities requiring that cannabis operators retain a full 90-days of footage, providing a complete audit trail of events.
The systems we install are now as autonomous as possible, with an approach of "automation by default" widely adopted, although human intervention is still imperative. We utilize AI-powered video analytics to improve incident detection and response speed and relieve the burden on our monitoring teams, so they focus on what's important at each site. Instead of being required to sit through hours of surveillance footage, IDIS Deep Learning Analytics enables our monitoring staff to only monitor a video stream when they are alerted to an everyday event a customer wants us to oversee or act when an unusual or critical incident is flagged up.
We've been serving the cannabis sector since its initial growth spurt. Today the industry is providing more than 420,000 full-time jobs, enjoying significant public support with many exciting new cannabinoid products in development. With cannabis operators keen to remain at the forefront of an increasingly crowded market, an increasing number will be turning to advanced technology and monitoring services to help them stay competitive and compliant.
Visit the VMI and IDIS America teams at the 11th annual MJBizCon in Las Vegas  on booth 3315 from November 16-18, where we will be showcasing the latest IDIS end-to-end solutions and advances in customized monitoring services.