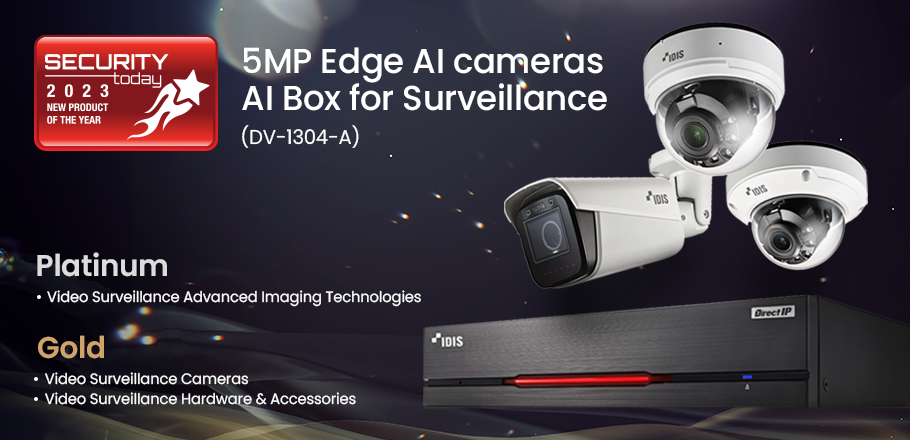 IDIS is very proud to announce that it has been honored by Security Today magazine with three New Product of the Year Awards. The program honors the outstanding product development achievements of security equipment manufacturers whose products are considered to be particularly noteworthy in their ability to improve security.
The IDIS AI Box for Surveillance (DV-1304-A) won in both the Video Surveillance Advance Imaging Technologies and Video Surveillance Hardware and Accessories categories. The IDIS Edge AI 5MP Camera Range won in the Video Surveillance Cameras – AI category.
The IDIS all-in-one AI Box, DV-1304-A is license free and comes pre-installed with the highly accurate IDIS Deep Learning Engine. It packs a punch with all the AI-powered functionality that users need to reduce false alarms and take a proactive approach to strengthening security and safety.
The IDIS 5MP Edge AI dome and bullet cameras also come with the power of the IDIS Deep Learning Engine on-board, unlocking highly efficient processing capability at the edge. They allow customers to target areas that require highly accurate alerts and notifications where they're needed the most, such as vulnerable perimeters, parking lots, entrances and exits, and sensitive or risk-critical locations.
Both the AI box and cameras have expanded IDIS' comprehensive NDAA-compliant range of AI- powered equipment and enable small to mid-sized businesses to affordably enhance their video surveillance with up to 98% accurate object detection and classification, helping them reduce false alarms, strengthen security and safety, and add value to their security operations.
"IDIS continually brings to market innovative yet practical AI solutions that help systems integrators win and sustain new business," notes Jason Burrows, Sales Director, IDIS America. "We at IDIS are very honored to have been recognized with three New Product of the Year Awards."