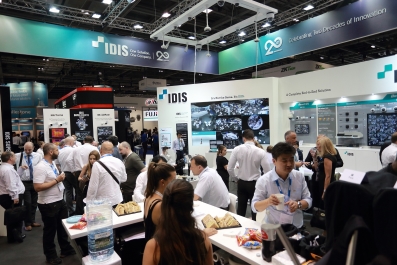 In an exclusive interview with International Security Journal, Jamie Barnfield, Sales Director, IDIS Europe discusses what the company will be displaying at IFSEC 2019 and what IDIS is doing to address network failures and gaps in footage and the recent award success of IDIS Super Fisheye technology.

What is the key message that IDIS will be presenting at IFSEC?



This will be a landmark year in terms of technology and value. We'll be demonstrating the benefits of low total cost of ownership (TCO) for end users – showing how buying high performance technology works out less expensive. And we'll be talking to our integration partners and installers about cutting the total cost to serve (TCS) - which gives them a real competitive advantage. These two key messages essentially encompass the IDIS value proposition. It's an approach that's working for us around the world, which is why we're seeing strong growth in all regions.

Increasingly end users are now looking beyond initial price of a system and focusing on the full lifecycle costs. In other words, they are evaluating: reliability, performance, cybersecurity, simplicity and speed of installation, ease of use and scalability. In each of those areas IDIS has a very strong offer.

For example, our IDIS Center video management software gives small to mid-sized customers the widest range of features and functions - and it's totally free. In addition, the plug-and-play simplicity of IDIS DirectIP® reduces installation and maintenance costs as well as streamlining cybersecurity. Add to that low power consumption and futureproof technology, and it's obvious to customers and partners that IDIS has a compelling value proposition. And these benefits escalate with the scale of the system, and every time a system is upgraded.


What are the main products that you will be displaying?



Our key technology focus for this year's show will include advances in camera technology, deep learning analytics and cybersecurity.

The IDIS team will be on hand throughout the event to help customers get a better understanding of the dangers of cyber-attacks. We'll look at the common vulnerabilities found in many surveillance set ups. At the same time, we'll be showcasing our multi-layered approach to cybersecurity, with measures that ensure secure access, transmission and recording, plus the integrity of video for use as evidence. Going a step further, we've launched an advisory video ahead of the show so that installers and end users know what questions to ask.

In terms of camera tech, we're set to unveil an advanced new line up that delivers on price and performance for every application including: an easy-to-install 2MP micro-dome; LightMaster PTZ; an exciting range of 5MP IP cameras; thermal cameras; and new iterations of our most popular models that now come with edge analytics.

Visitors will also see the latest innovations in our 97% accurate IDIS Deep Learning Analytics and during the show we'll announce and launch our new privacy masking and redaction software.

Visitors can also come along and get hands on demos of our end-to-end solutions for retail, education and general commerical applications. And our course we'll be showing off our flagship plug-and-play offering, DirectIP®, and our choice of video management software (VMS) including the totally cost-free IDIS Center and the award-winning IDIS Solution Suite.

All of these give installers new levels of system-building flexibility and users a guaranteed low total cost of ownership.

I'd also encourage anyone coming to IFSEC to try our Smart UX Controls, the triple side dewarping on our fisheye cameras, our award-winning 4K IR 31x zoom PTZs (all provide very impressive user experiences) and see the server-crushing performance of our NVRs in action.


What are some of the benefits of partnering with end-to-end surveillance manufacturers?



For installers and integrators partnering with an end-to-end solution provider lowers their operating costs and increases profitability. It's a clear, simple proposition that has ensured the long term and mutually successful partnerships that IDIS has today.

Seamless compatibility means faster installs and maintenance. It also ensures quicker incident resolution, which equals better profit margins, and happier customers. If end user customers are satisfied they are more likely to enter attractive service agreements, which means they also benefit from the seamless upgrades that become possible thanks to forward and backward compatibility.

It's important to remember that working with a one-stop supplier for cameras, recorders, VMS, analytics and network accessories means you have one point of contact – for sales, marketing and technical support. That can mean a lot of saved time compared with dealing with multiple vendors – and of course time is money.


How important is IFSEC to IDIS?



It's a great platform for launching new products and technologies as it brings the whole buying chain together under one roof. It also allows us to showcase the depth and breadth of the IDIS Total Solution. And course it's a great opportunity to network with customers, partners and industry peers.

That's why from 3PM on Wednesday 19th we're inviting visitors to come and join the happy hour party on our stand IF1110 (near the S5 hall entrance). Not only will we have a free bar, we're challenging them to try out their own speed, agility, and accuracy in tune with our video tech. Visitors will get a chance to show-off their skills on special 'lights out' and 'buzz wire' games to be in with a chance of winning one of two European mini-break holidays.


Network failures and gaps in footage are becoming common problems. What can be done to solve that?



Loss of footage is every security and health & safety manager's nightmare, particularly when an incident needs investigating. Regulatory compliance and the increased use of analytics has also made downtime even less appealing.

There are several protective measures that users can look for. Firstly, temporary failover on cameras means that if there's instability on the network the camera saves to an internal recording buffer to avoid a break in data. Then for more high-risk areas customers would ideally want to protect against network failure, whereby footage automatically gets recorded on to an SD card as a backup. Our higher-spec cameras feature Smart Failover means that once network stability is restored, the SD card will automatically transfer that footage back to the NVR. Not only does that give customers peace of mind, it saves the cost and hassle of staff retrieving the SD card or calling out an engineer.

And where complete 24/7 video capture is non-negotiable, IDIS Critical Failover provides even greater built-in redundancy and resilience by automatically stepping in to ensure continued recording in the event of faults including: network instability, network failure, storage failure, recorder hardware failure and power supply failure.


IDIS recently enjoyed success at the Safety and Health Excellence Awards. Can you tell us about that please?



It was great to be recognised alongside our systems integration partner ISD Tech. We scooped the award for the hotly-contested Security Innovation of the Year category with our 12MP Super Fisheye camera. And IDIS and ISD Tech were recognised with a judges' commendation for delivering a major video upgrade at child and adolescent mental healthcare facility run by the NHS.

Since its launch 18 months ago the Super Fisheye has become one of our best-selling models because it's been developed with the needs of both installers and end-users in mind, and for everyone it delivers improved system performance and security.

For the installer it gives a better choice for wide area protection applications, including retail space, lobbies, auditoriums, corridors, open rooms and storage areas, and helps their customers to achieve more within their budgets.

For the end-user it allows lower equipment costs (it can typically replace three to four fixed-lens cameras), lower installation fees, a reduced maintenance and storage burden and affordable operation (it records the full scene without the need for an operator 24/7). And that's incredibly valuable for facilities like the NHS mental healthcare facility, because security and clinical staff can de-warp footage retrospectively when investigating incidents or evaluating an event. This is letting them understand how to improve patient care – so it's delivering tangible benefits beyond safety and security.


Do you have any plans for more product launches later this year?



Definitely. We've got some really exciting launches scheduled for the second half of the year and we'll be talking more about those at IFSEC - in fact visitors to our stand will to get a first look at some of this upcoming tech. Everyone's welcome – we'll be on IF1110.

Innovation is a major focus for IDIS. We invest 10% of turnover in R&D annually and we have an ambitious product roadmap that's driven by our customers. Each year our partners from across the world gather close by to our headquarters near Seoul and we share feedback from integrators, installers and end-users.

This means we are confident that our new releases will solve real-world problems. We concentrate our expertise on creating the new features and functions that customers really want. At the moment you're seeing that with improvements to both our hardware and software, as well as with cutting-edge innovations such as our deep learning analytics.